Lesson series
StarTax ADIT
Transfer Pricing Course
The most comprehensive online self-paced transfer pricing course on the market. An exciting area of International Taxation, now open for everyone!
18 hours of lectures

The textbook

Tests, quizzes, practical cases

Mock exam

2 hours of 1-2-1 learning sessions
Self-paced course
Self-paced learning allows you to work online and with physical materials on your terms, and in a way which suits your learning style. Get access to top-notch study materials!
One-stop-shop
This course covers all the facets you need to know to successfully pass the ADIT Transfer Pricing exam. Optimize your study time to achieve maximum results, boost your knowledge about transfer pricing and solve any transfer pricing issue yourself!
Structure of the course & materials
We have everything you need to master principles of transfer pricing and prepare for the ADIT exam.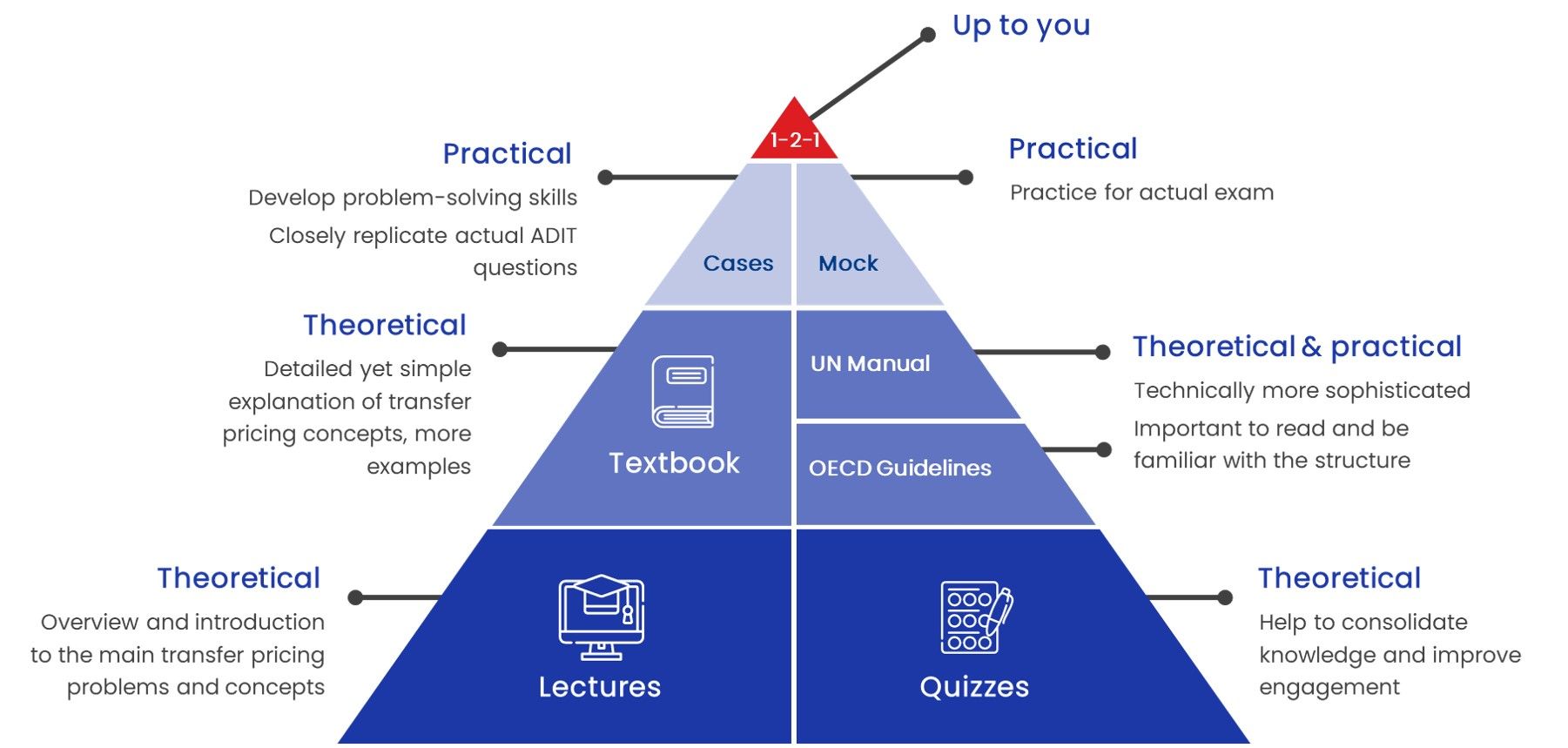 In our course, we cover practical application of transfer pricing methods, comparability analysis, transfer pricing rules of various countries, functional analysis, financial analysis, dispute resolution and many other topics. Boost your understanding of transfer pricing!
Please share your feedback!
As ever, we are continuing to look at ways to improve our course and value your thoughts.
Frequently asked questions
1. Should I buy the textbook separately If I join the course?
The textbook is included in the course package, and we will send it to you as soon as you register for the course. You do not have to buy the book separately.
2. Will I get an e-copy of the textbook?
We will send you a physical copy of the textbook – we do not send an e-copy.
3. How long will I have access to the course?
You will have access for nine months. However, we can provide you with additional 3 months of access for free (on request).
4. How soon will I receive personalized feedback about my case solutions / the mock exam?
We will provide you with detailed personalized feedback within 48 hours.
Didn't find the answer to your question? Contact us:
Write to Borys on LinkedIn:
Meet the instructor
Borys Ulanenko
Borys Ulanenko is an experienced transfer pricing professional with over 10 years of experience in the field. He started his career at KPMG and went on to hold several senior roles at Royal Dutch Shell, including Transfer Pricing Senior Manager where he managed a large team, designed transfer pricing policies, and supported local entities with APA applications and audits.

In March 2022, Borys joined Aibidia, a venture capital-backed tech company founded by transfer pricing experts to bring automation and advanced analytics to this critical finance function.

Borys often lectures on transfer pricing. He has been delivering specialized seminars and lectures since 2014 and has developed several onboarding programs for new colleagues with different backgrounds.
What is the EU Directive?
The EU is run by an elected EU Parliament and an appointed European Council. The European Parliament approves EU law, which is implemented through EU Directives drafted by the Commission. National governments are then responsible for implementing the Directive into their national laws. In other words, EU Directives are draft laws that then get passed by national governments and then implemented by institutions within the member states.
What is CbCR?
Country-by-Country Reporting (CbCR) is part of mandatory tax reporting for large multinationals. MNEs with combined revenue of 750 million euros (or more) have to provide an annual return called the CbC report, which breaks down key elements of the financial statements by jurisdiction. A CbC report provides local tax authorities visibility to revenue, income, tax paid and accrued, employment, capital, retained earnings, tangible assets and activities. CbCR was implemented in 2016 globally.
Created with